Antique English Mahogany Commode with Ceramic Potty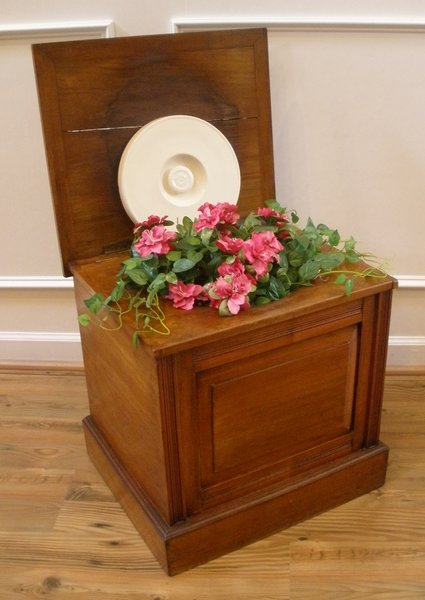 Antique English Mahogany Commode with Ceramic Potty
This mahogany commode was imported from England and dates back to around 1900. At first glance this simple piece of furniture just looks like a small trunk or side table, but inside tells a different story. The top lifts up to reveal a toilet seat in which sits a ceramic lidded potty. These were what the average Victorian house hold would have used for a toilet. Today these interesting pieces are used for side tables or left open and used as a planter.
The ceramic potty itself is a nice unusual piece of Burleigh Ware and bares the makers name Burgess & leigh, Burslem England. There are a couple of minor chips to the rim which is shown in the pictures but over all it is in remarkable, clean condition.
The wooden commode has developed a worn look but is clean and has some splitting to the top which is shown in the pictures. It is in solid, sturdy condition with age appropriate flaws.
Both the commode and potty were imported from England on separate occasions and were combined by myself as they were such a perfect fit. The commode dates back to C.1900 however, the stamp on the potty dates the potty to the 1940's.
Dimensions: Width 19 1/2", Depth 17", Height 19".
Shipping within the USA only.
A $100 shipping fee will automatically be applied to this item at the check out. If you plan on picking it up in our shop, please contact us to make your payment over the phone so we can remove the shipping cost and make arrangements for your pick up.