Vintage Three Face Pressed Glass Covered Compote.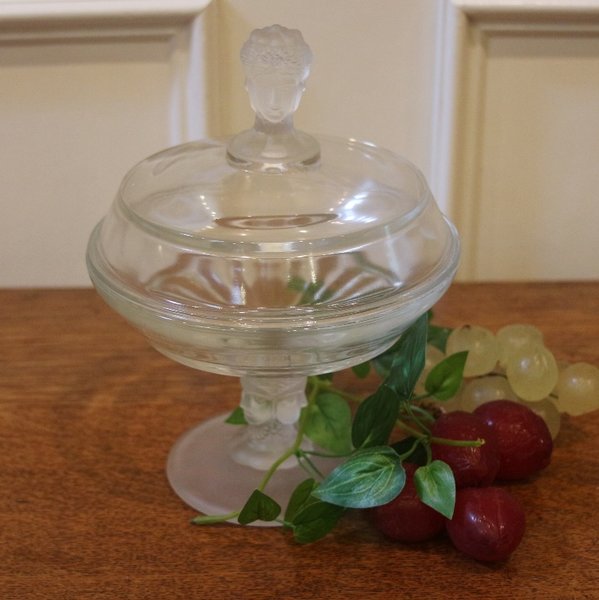 Vintage Three Face Pressed Glass Covered Compote.
Vintage American pressed glass covered compote, "Three Face", also known as "Three Fates", "Three Graces" and "Three Sisters".
This design was introduced by George Duncan and Sons in Pittsburgh, PA, in June 1878 and was originally called pattern No. 400. The piece is unmarked but I believe it to be attributable to the L. G. Wright Glass Company, who produced copies of the design in the late 1960's.
The compote is very pretty with detailed hair and jewelry. The stem and base of the compote are acid finished giving them a frosted appearance and a satiny feel. The lid and bowl are clear glass.
This piece is in very good vintage condition with no chips or other damages. It would look great filled with candy or simply displayed on a bookshelf. What a great addition to any pressed glass collection.
Dimensions: total height 8 1/4", diameter at widest part 6 1/4".
ITEM #GY672

Shipping within the United States of America only.
A $12 shipping fee will automatically be applied to this item at the check out. If you plan on picking it up in our shop, please contact us to make your payment over the phone so we can remove the shipping cost and make arrangements for your pick up.