Antique Pompeian Bronze Bookends 'The Quest' C.1925.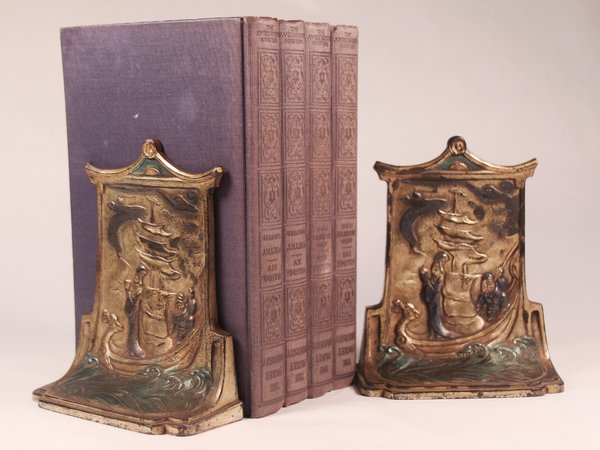 Antique Pompeian Bronze Bookends 'The Quest' C.1925.
Lovely pair of antique Cast Metal Bookends featuring the inscription of 'The Quest', PB Co. Inc. which date these exquisite pieces to C. 1925.

When Pompeian Bronze Company created their new line of solid cast metal bookends in 1925, "The Quest" was one of a series of 6 different Japanese themed bookends, exquisitely designed and hand painted. Each pair has the title inscribed on the back.

This pair of bookends features two figures on a sailboat with a bird flying overhead. The figures, bird and sea are painted green.

Each bookend is in very good vintage condition and has developed a wonderful aged patina.

Books not included.

Dimensions: Height: 4 6/8"; width 3 7/8"; depth 1 6/8".

Item #GY1490

Shipping within USA only

A $12 shipping fee will automatically be applied to this item at the check out. If you plan on picking it up in our shop, please contact us to make your payment over the phone so we can waive the shipping cost and make arrangements for your pick up.