Antique Coal Scuttle and Scoop. Oak with Brass, English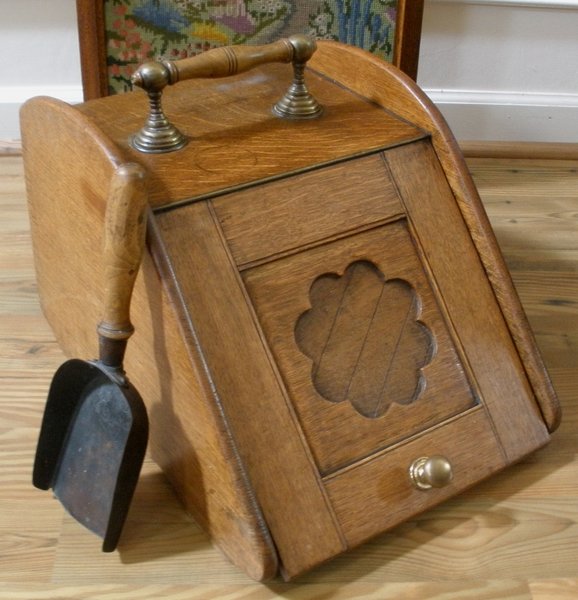 Antique Coal Scuttle and Scoop. Oak with Brass, English
Arts and Crafts oak fire side coal scuttle with scoop, imported from England and dating back to the turn of the 20th century.
Coal boxes like this would have sat next to the fire and used to store spare chunks of coal to keep the fire going on long, cold winter nights.
This particular one features a carved Arts and Crafts style cut out flower design on the slant front lid. The lid lifts up to reveal the coal storage space where there would have once been a tin liner but sadly these often deteriorated and are very rarely still with the box.
There is a brass and wood handle on top making it easier to carry and refill from the large coal bunker outside and a simple brass knob on the lid.
The bottom of each side has a subtle scalloped shape and the bottom board is still in good shape with no holes.
There is some minor deterioration on the inside right front which is only normal and does not effect its look or functionality. There is also some minor wear through out the piece and 2 faint ring marks on top. The back has 2 holes where there would have once been a handle to store the scoop. All of this is shown in the pictures and as you can see it does not effect its over all look and only adds to its character and charm. It is in solid, sturdy condition.
Dimensions: width 13", depth 18 1/2", total height 13 1/2".
ITEM #3122A
SHIPPING within the USA only.
A $35 shipping fee will automatically be applied to this item at the check out. If you plan on picking it up in our shop, please contact us to make your payment over the phone so we can waive the shipping cost and make arrangements for your pick up.