Antique English Tea Cup & Saucer, Gaudy Welsh, 19th Century.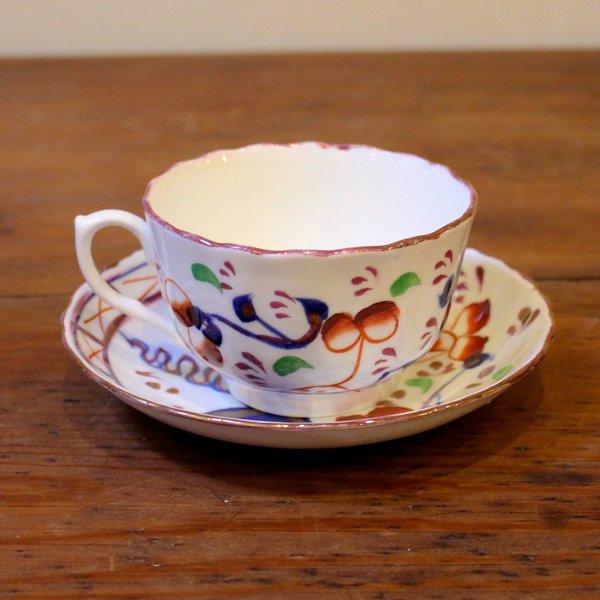 Antique English Tea Cup & Saucer, Gaudy Welsh, 19th Century.
Gaudy Welsh, Oyster pattern cup and saucer imported from England.
This folksy, unpretentious pottery was originally made in England and Wales between 1820 and 1860 for working class families and was not made to be perfect. It was thick and coarse, full of pitting and woefully out of shape.
Today it is highly collectible and this pretty duo is a fine example. It features the Oyster pattern which is hand painted in cobalt blue, burnt orange with touches of pink and copper luster on a white background.
Both pieces are in excellent condition aside from some very minor wear to the pink edges. It has all the characteristic flaws you would expect to find which are shown in the pictures and only add to it's whimsical charm.
Dimensions: cup height 2 1/4", cup width including handle 4 7/16", saucer diameter 5 1/2", total height 2 1/2".
Please check out my shop for more Gaudy Welsh and enjoy a 10% discount on the purchase of 2 or more Gaudy Welsh pieces along with a combined shipping discount.
Item #33134
SHIPPING within the USA only.
A $8 shipping fee will automatically be applied to this item at the check out. If you plan on picking it up in our shop, please contact us to make your payment over the phone so we can waive the shipping cost and make arrangements for your pick up.