**SOLD**Antique Full Size American Empire Rope Bed C.1820.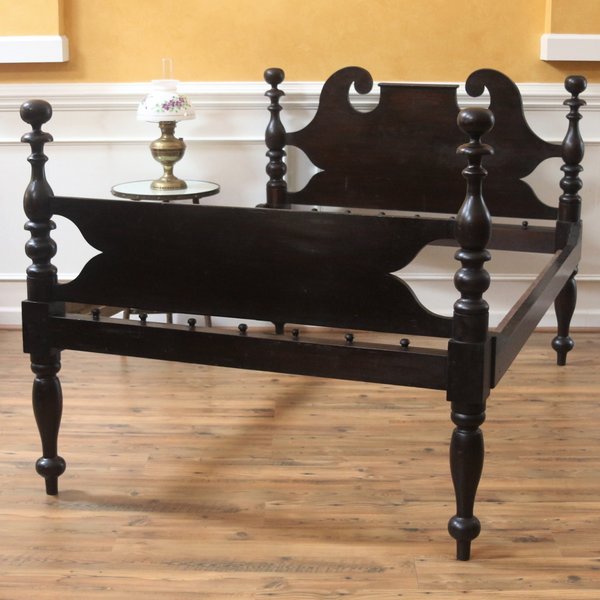 **SOLD**Antique Full Size American Empire Rope Bed C.1820.
**SOLD**
Antique full size American Empire period rope bed dating back to the early 1800's.
This primitive bed consists of a headboard and footboard with chunky turned posts topped with cannon ball finials. It also has the original wooden side rails.
The finish looks to be original and is a very dark brown color which has wear and age giving this amazing bed a rustic look which would compliment any country decor.
Once assembled, this old bed is very sturdy and strong.
Dimensions: width 54 1/2", length 80", headboard height 47 1/2", footboard height 46 3/4".
Please note that today's full size mattress will be too big for this antique bed. However, most mattress suppliers can custom make a mattress to fit. The approximate mattress size needed for this bed would be 51" wide and 72" long, however these measurements are just approximate and it is recommended you take your own measurements upon purchasing and receiving the bed before purchasing a mattress. Metal brackets will also need to be fitted to the inside of the side rails to sit the box spring on.
SHIPPING within the contiguous USA only.
A $300 shipping fee will automatically be applied to this item at the check out. If you plan on picking it up in our shop, please contact us to make your payment over the phone so we can remove the shipping cost and make arrangements for your pick up.