Antique Pole Fire Screen, English Mahogany Georgian Needlepoint.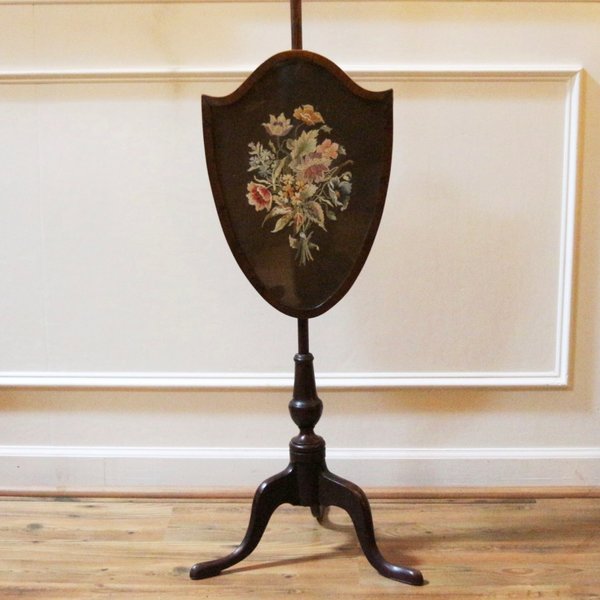 Antique Pole Fire Screen, English Mahogany Georgian Needlepoint.
Beautiful mahogany pole fire screen imported from England and dating back to the mid 18th century.
Fire screens like this were used specifically to protect the face and makeup from intense heat from the fireplace.
This particular example is fitted with a sliding panel in the shape of a shield so that it could be highered or lowered to suit the user.
The shield displays an exquisite piece of floral embroidery on brown silk which is in excellent condition.
The pole sits in a turned tripod base with three elegant Queen Anne legs with pad feet.
There would once have been a finial on top of the pole but unfortunately this is missing. There is some minor wear and dings mainly in the pole from the screen being slid up and down it. There is some small minor pieces of veneer damage to the top side corners of the shield. I have tried to show as much of this as possible in the pictures and as you can see it is all normal wear and age appropriate flaws which do not effect its over all charm and functionality.
This is a wonderful piece of British heritage which is very sturdy and ready to add that touch of elegance to any ones fire place.
Dimensions: width 13", depth 14", height 58".
A $60 shipping fee will automatically be applied at the check out for this item. If you plan on picking it up in our shop, please contact us to make your payment over the phone and make arrangements for you pick up.