Antique Porcelain Tea Set, Grafton, English, C.1900.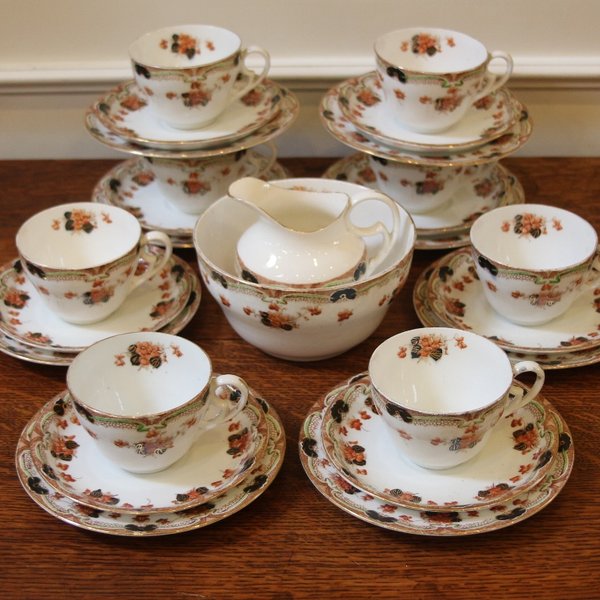 Antique Porcelain Tea Set, Grafton, English, C.1900.
Antique porcelain tea set including 8 cup, saucers and side plates along with a sugar bowl and creamer jug.
Each piece is decorated with a transfer ware pattern of flowers and leaves in autumn colors of brown and orange with golden accents.
The under side is marked with the makers shield 'Grafton China & Sons, England' along with the mark of 'A B Jones and Sons'. This mark can be dated back to C.1900.
There is some minor wear to the gold accents around the rims and some tiny flea bite chips on the under side of some plates and saucers which is only to be expected in china of this age.
One cup has a hairline crack circling the bottom and also has a chip in the rim. Another cup has a small chip in the rim. There is a brown rough spot in the bottom of one more cup but this may be from when it was being made and not damage from use.
What a wonderful tea service to add a touch of elegance to any fall table.

Dimensions: tea cup height 2 1/4", tea cup width including handle 4", saucer diameter 5 3/8", side plate diameter 6 1/4", creamer height 3 7/8", creamer width from handle to spout 4 1/2" sugar bowl height 3", sugar bowl diameter 5 6/8".