Antique Punch Bowl, Pressed Glass, New Martinsville, Carnation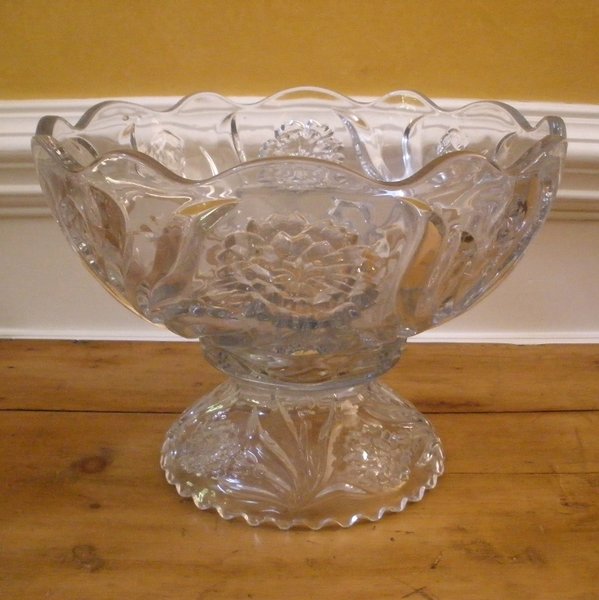 Antique Punch Bowl, Pressed Glass, New Martinsville, Carnation
Early American pressed glass punch bowl made by New Martinsville Glass Co. and dating back to around 1904.
This magnificent, rare, piece of EAPG (early American pressed glass) certainly makes a statement whilst bringing a touch of elegance to any table.
It boasts scalloped edges and a very unique floral pattern called 'Carnation'.
The punch bowl sits on a stand but can also be used separate and the stand can be turned over to make another smaller footed bowl.
There are 4 seams where the mold pieces were joined but these have been cleverly disguised by the pattern. There are also bubbles and imperfections present which would have occurred during the molding process.
This fabulous punch bowl is in fantastic condition with no breaks or chips. There are some superficial scratches on the inside and base due to use over the years but as you can see from the pictures this does not take away from the over all beauty of the piece.
Dimensions: Total height on stand 10 1/4". Diameter of punch bowl 14", height of punch bowl 6 1/2", stand diameter 8 1/2", stand height 4 3/8".
Shipping within the USA only
A $35 shipping fee will automatically be applied to this item at the check out. If you plan on picking it up in our shop, please contact us to make your payment over the phone so we can remove the shipping cost and make arrangements for your pick up.