Victorian Side Chair, English Mahogany Inlaid Mother of Pearl.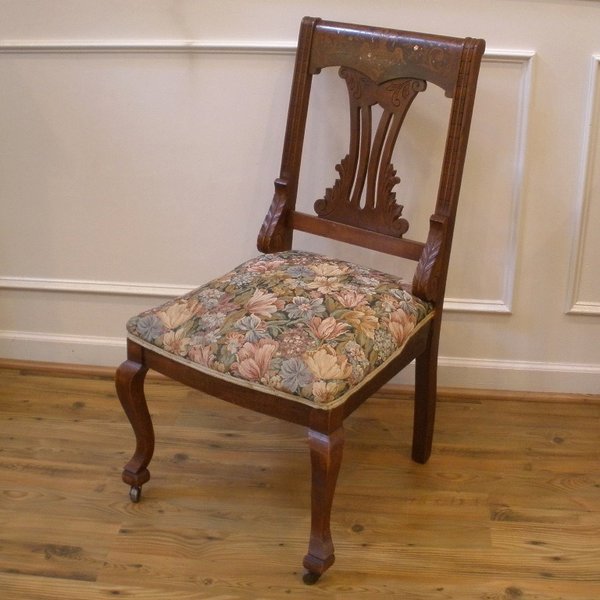 Victorian Side Chair, English Mahogany Inlaid Mother of Pearl.
Beautiful antique carved mahogany side chair imported from England and dating back to the late 1800's.
Displayed on the top chair rail is wonderful inlay work depicting a mythical 2 headed phoenix with mother of pearl accents. It also boasts a hand carved back splat and side rails terminating in acanthus carved brackets.
The seat is upholstered in a colorful floral fabric which could possibly be original and is in clean condition with no visible damage. It also retains it's original springs and horse hair padding which is still comfortable and strong.
The 2 front legs have a very unusual cabriolet almost queen Anne shape and they each still have their original castor.
There is some slight movement in the leg joints but they are still strong and holding fast. Wooden dowels have been used at some time in the past to re-enforce the back leg joints and there is minor wear throughout the piece. I have tried to show this in the pictures and as you can see it does not take away from its over all character and charm.
This is a beautiful, one of a kind chair with a warm aged patina with age appropriate wear and character that only a lifetime of stories can bring.
Dimensions: width 20 1/2", depth 23 3/4", seat height 18 1/2", back height 37 1/4".
SHIPPING IS NOT FREE or included in the price.
We would be happy to work with a shipper of your choice or assist with shipping needs and quotes. Just send us your zip code and as a courtesy we will contact some local, third party shipping companies and get back to you.
Please be aware that delivery could take up to 8 weeks, sometimes longer, depending on truck schedules and travel distance. Shipping times are not guaranteed and are subject to change at the shippers discretion. We can not be held responsible for any delays or anything that may occur once the item has left our shop. If this is a problem, we would be happy to work with a shipper of your choice and in store pick up is always free.
Free in store pick up is available Thu, Fri and Sat, 10am - 5pm. Any other day is by appointment only.
Cancellations or refunds are not accepted once an item has left our shop and has been marked shipped. Shipping costs are non-refundable by us and if an item is returned the buyer is responsible for return shipping.