Exquisite Sevres France Porcelain Converted lamp C.1804.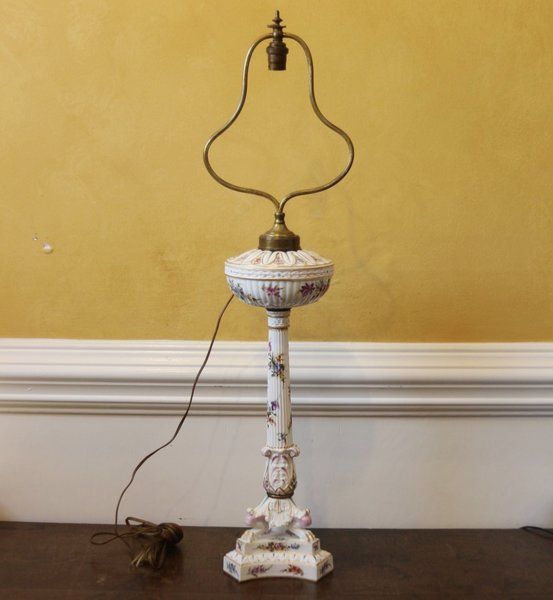 Exquisite Sevres France Porcelain Converted lamp C.1804.
Rare opportunity to acquire a piece of museum quality 'Sevres' Porcelain, one of the finest porcelain makers of its time and official supplier to the French royal family. The stamp can be accurately dated back to 1804 during the reign of Louis XVI.
Beautifully hand painted with the finest detail and vibrant colored flowers.
This fabulous lamp is in remarkable condition considering it is over 200 years old. There is only one small area of damage to the gold rim at the top of the central support column which is shown in the last picture and as you can see it does not affect the over all look and quality of the piece.
Originally this was an oil lamp which has now been tastefully converted to electricity but would need new plug and fitments or could easily be converted back to an oil lamp.
Total height 31", height of oil lamp 18 1/2", circumference of oil bowl 6".
SHIPPING within the USA only.
A $45 shipping fee will automatically be applied to this item at the check out. If you plan on picking it up in our shop, please contact us to make your payment over the phone so we can remove the shipping cost and make arrangements for your pick up.