Set of 10 Dinner Plates by GDA (Gerard Dupraisseix & Abbot) Limoge France. Exclusively for Bailey Bank and Biddle Philadelphia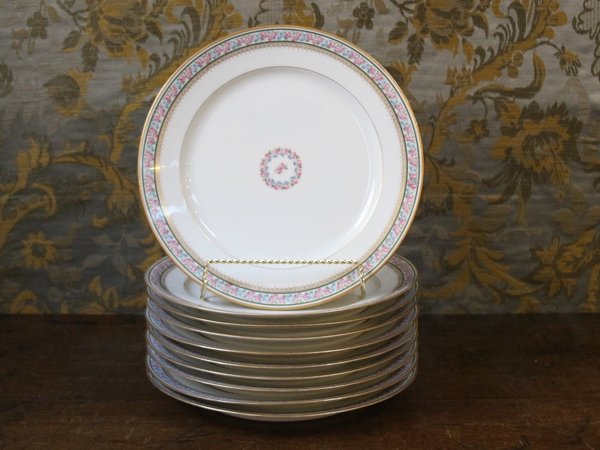 Set of 10 Dinner Plates by GDA (Gerard Dupraisseix & Abbot) Limoge France. Exclusively for Bailey Bank and Biddle Philadelphia
This beautiful set of 10 dinner plates were made by GDA (Gerard Dupraisseix & Abbot), Limoges, France exclusively for Bailey Bank & Biddle, Philadelphia.

The gorgeous plates have an ivory background with a center pattern of pink and blue flowers with green leaves that is continued around the rim. The plates are completed with extensive gold trim.

One plate does have a very minor chip, as can be seen in the photos, but this is barely noticeable and does not detract from the beauty of the set. The rest of the plates are in excellent condition. Overall the set is in excellent condition with no cracks, crazing or scratches.

Dimensions: Diameter 10 1/8".
Item #GY1617

Shipping within USA only

An $28 shipping fee will automatically be applied to this item at the check out. If you plan on picking it up in our shop, please contact us to make your payment over the phone so we can remove the shipping cost and make arrangements for your pick up.