Set of 3 Antique Porcelain Plates, Germany. C. 1910.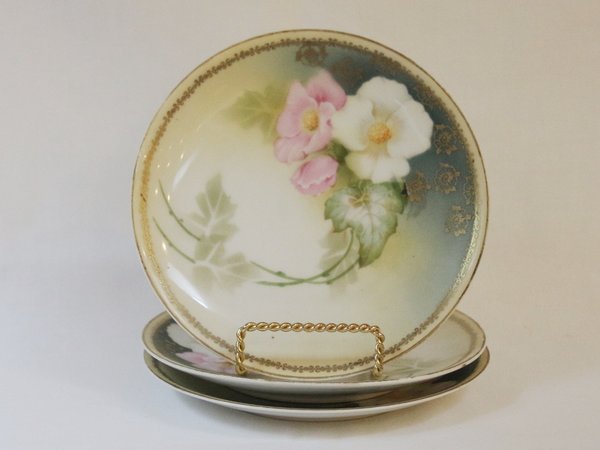 Set of 3 Antique Porcelain Plates, Germany. C. 1910.
This lovely set of 3 antique porcelain plates were made in Germany C. 1910.

The beautifully decorated set has a beige, pale yellow and teal colored background, with pink and white flowers and green leaves. They are completed with gold trim.

One of the plates does have a very faint crack which is difficult to see unless caught in the light, and equally as difficult to photograph. I have attempted to show this in photograph #7. The plate do have a little wear to the gold trim and very minor black spots as can be seen from the photos. Overall, the set is in very good condition for their age.

Stand not included.
Dimensions: Diameter 6 1/2".

Item #GY1592

Shipping within USA only

An $10 shipping fee will automatically be applied to this item at the check out. If you plan on picking it up in our shop, please contact us to make your payment over the phone so we can remove the shipping cost and make arrangements for your pick up.